As the music industry becomes more and more saturated, music marketing is becoming very difficult for a lot of artists. However, we have found some exemplary examples of music marketing and compiled them within the following list for your perusal.
If you're a smaller or niche artist, the below strategies won't be all that useful to you. Instead, we'd like to direct you to our post on How social media has affected the music industry.
The aforementioned article contains information on how the music industry has fundamentally changed for artists, specifically niche artists, in addition to an array of tips and tricks.
With that being said, we now continue with the oustanding examples of modern music marketing.
ED SHEERAN – WELL TIMED & EXECUTED PROMOTIONAL STRATEGY
Ed Sheeran announced in 2015 via his social media platforms that he's taking a break to travel the world and see everything that he's missed.
Fast forward to the 13th December 2016, exactly a year after Ed's last post on social media, he puts up an image of a plain light blue square, which marked the beginning of the promotion for his newly announced album, Divide.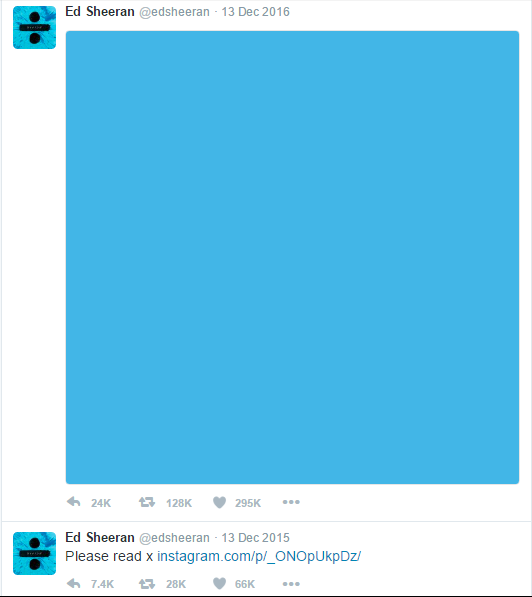 It wasn't until January 1st 2017 that Ed posted again, this time with a short video announcing that new music is coming on the following friday. On the days that followed, he also posted some subtle teaser imagery for the new music to keep the buzz going.
The hype was well and truly built by the time friday came about. But Ed had another surprise up his sleeve. Instead of releasing a single song, he released two brand new songs at the same time!
Cause I've been away for a bit here's two singles rather than one – Castle On The Hill & Shape Of You https://t.co/QuZMnEhS8P pic.twitter.com/VCznN8nLd4

— Ed Sheeran (@edsheeran) January 6, 2017
As of the 13th of January 2017, both of the new songs that Ed Sheeran released, Castle on the Hill and Shape of You, are position 1 and 2 respectively in the UK and US singles charts. An incredible achievement to say the least!
Ed's other more recent posts on social media to promote Divide have been very creative but for the sake of keeping this article concise, I'm simply going to advise that you take a look for yourself if it's of interest to you.
DRAKE – EMBRACE THE POWER OF THE INTERNET MEME
Drake became the foundation of several memes including spin offs of hotline bling, and even memes implying that Drake is sensitive, which is often characterized as the antithesis of the modern day rapper.
Drake became so well known as a meme, that a subculture devoted to posting image macros or edited videos of Drake emerged and later on became known as 'drakeposting'.
In 2016, Drake appeared on Saturday Night Live announcing a new song titled 'more than a meme' in which the Canadian Rapper asserts that his rise to fame is based on more than his popularity as a comedy icon on forums & social networks.
Drake sing's 'i'm more than a meme' on Saturday Night Live
DJ KHALED – USE SNAPCHAT TO STRENGTHEN YOUR BRAND
The key (get it) to the success of Khaled bin Abdul Khaled, aka DJ Khaled, has not particularly relied on the consistency of his quality as a musician.
Hailing from a career as a radio DJ, Khaled grew his original audience utilising tactical partnerships and musical collaborations with famous artists such as Snoop Dogg & Rick Ross. This tactic which allowed DJ Khaled to gain access to their audience which helped him early on to raise his profile significantly as a featured artist on popular tracks.
However it was not until 2013, when DJ Khaled really came into his element. He has managed to attract a large audience to his highly popular snapchat account @djkhaled.
On Snapchat as well as other social networks like instagram, DJ Khaled reveals his 'keys' or paths to happiness in a novel and engaging way, which similarly to Drake, has become somewhat of a meme in internet culture.
To some, DJ Khaled is more known more for his famous catchphrases such as 'You the best' & 'I appreciate you', as well as his fierce rivalry to the mysterious 'they'.
However, DJ Khaled's musical releases are not to be looked down upon. He has managed to develop a strong, loyal following through his unique social media strategy & with the release of 'Major Key' (2016) he continues to market his music to a broader audience than ever before.
The best of DJ Khaled on Snapchat
LEE SCOTT – PROMOTE LIMITED EDITION MERCHANDISE AND UPSELL HIGH VALUE BUNDLES TO FANS
UK Hip-Hop artist Lee Scott has been releasing his own unique brand of music since early 2006. Hailing from Runcorn, Lee initially grew his audience through his participation in underground events such as Don't Flop.
Lee created and executed a highly unique promotional strategy for his most recent 2016 album, Nice Swan. The album release involved a 3-stage production run which utilised the power of limited edition merchandise.
This enabled the artist to charge a premium for early adopters who wanted to be within the first 100 to hear the album. Furthermore, the slow release created anticipation within the fanbase which generated social buzz and PR opportunities.
The album launch was originally announced with a highly unique & slightly cryptic advert titled 'Luxury Infomercial' in which Lee announced that his latest album would be released early for the first 100 customers in an exclusive limited edition bundled pack.
Furthermore, upon general release, Lee upped the ante by advertising an exclusive limited edition collectors pack containing an exclusive purple CD, 16 page lyric book and multi-coloured special edition vinyls.
This provided Lee with multiple opportunities to monetize his content in a culture of music piracy, where most listeners tend to pivot towards free streaming over music purchasing.
Once people had began to upload copies of Nice Swan online, Lee Scott swiftly reacted by releasing the album for free across all major streaming platforms which now made the album available to a wider audience and granted access to the more general & casual listener.
Utilising a multistage release of the Nice Swan album allowed Lee to segment his audience and cater to different listener segments.
ZARA LARSSON – LEVERAGE INSTAGRAM
One of the more controversial music marketing mentions of this post is Zara Larsson and her utilisation of Instagram to relate to her audience.
Some of Zara's posts on her Instagram serve as excellent examples as to why the 19 year old singer has seen a rapid rise to fame. For instance, she frequently posts images that her target audience can empathise with, driving massive amounts of engagement.
Even her more contentious posts such as the one seen below receive a vast amount of interaction. It's very clear that Zara understands who her audience is and how to appeal to them.
There are many more excellent examples of music marketing at it's best, but for the sake of keeping this article concise, we're going to cut it here and leave the rest of our findings for a future post.
If you've found any amazing examples of music marketing, then please leave us a comment! If we agree with you then we'll add it to the post and cite you (with a link to your website, if you want of course!).